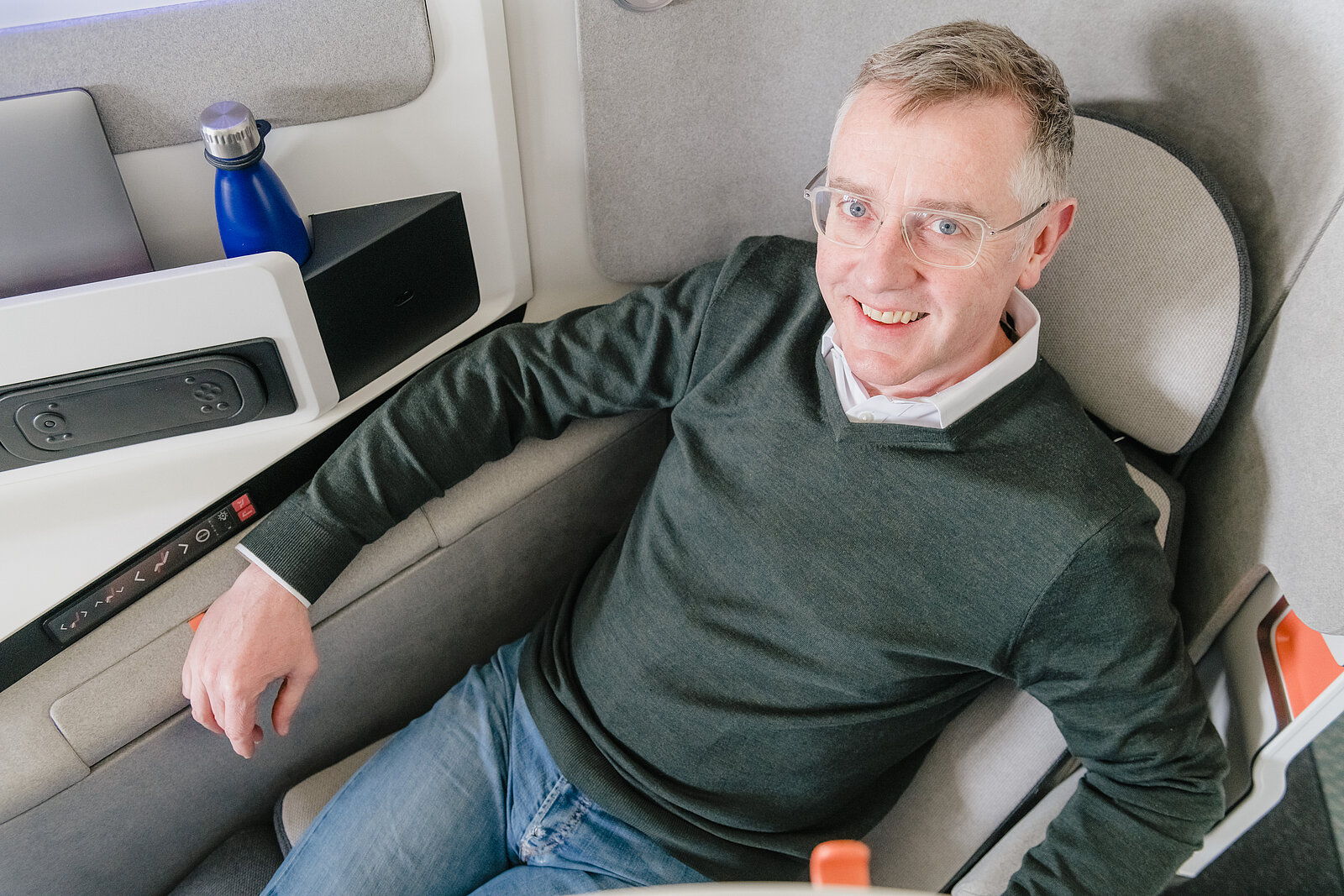 Unum unveils pioneering Unum One business class seat
Unum Aircraft Seating is today revealing its first business class seat – Unum One – delivering exceptional comfort with class-leading dimensions and a consistent passenger experience across single and twin aisle aircraft.
Unum One has been in development for over two years and offers an outward facing herringbone layout with full lie flat bed and direct aisle access. The seat will allow airlines to deliver a consistent business class passenger experience across all aircraft fleets and can be deployed at a wide range of pitches to maximise efficiency in the cabin layout.
Chris Brady, Executive Chairman and CEO, Unum, says: "The remarkable thing about this seat is how it has surprised me. Early on in the development process it looked great on paper, then the first cardboard space models were exciting, but now the real thing has blown me away. I'm really proud of the team and the seat they've created from the Zero Gravity position to the space, the table and the privacy door, it all just works."
For passengers, Unum One offers an infinitely adjustable range of seat positions, including the heightened comfort of a well-supported Zero Gravity position. Every inch of available space has been utilised in particular the often overlooked and constrained footwell area. To provide customers with the utmost in comfort and security, airlines have the option of a DOT compliant privacy door at every pitch. Generous side furniture with well thought out storage options helps complete the design.
With carefully crafted geometry, the seat delivers a consistent experience for the passenger not only across both single and twin aisle airframes. Unum One delivers a 21" seat width and for single aisles an 80" bed length (78" for widebodies). Unum is proud to be working with Acumen, one of the world's most highly regarded industrial designers, with more than 50 airline seat designs under its belt.
Brady adds: "We set out to be reliably comfortable and sustainably made, which has driven the design of our entire business. For example, we see designing in maintainability as part of this promise, the seat needs to work like new every day, so we've made the replacement of all the moving parts and the high wear areas straightforward and quick for on-wing replacement.
"Similarly, our commitment to on time delivery is more than just a promise to try hard. It's about a fundamental alignment of our design choices and material selections with a short local supply chain. We are close to our suppliers in every sense, which gives us control and is part of our commitment to control our Scope 3 emissions."
Airlines and media can experience Unum One at Aircraft Interiors Expo in Hamburg from 14-16 June (stand 6E56).