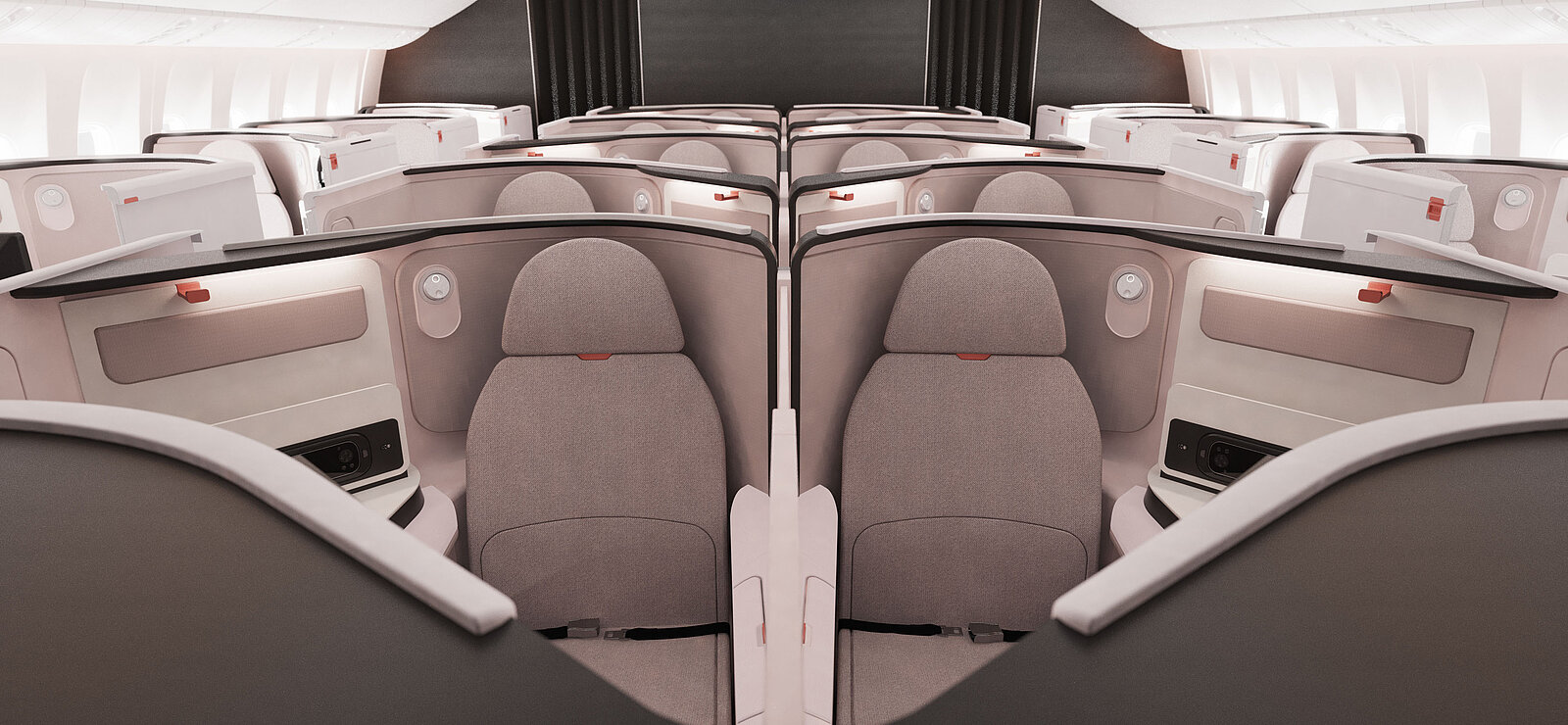 Unum delivers maximum comfort at minimum weight with launch of Unum Two
AIX, Hamburg – 6 June 2023: Unum Aircraft Seating is today launching Unum Two – its new forward-facing lie-flat, direct aisle access business class seat with exceptional passenger experience and market-leading focus on comfort and sustainability – at this year's Aircraft Interiors Expo.
Unum Two is a forward-facing, staggered business class seat for widebodies that, together with the herringbone configuration Unum One, means the company has a business class seat for all tastes and airframes.

Unum Two is a 21.5" wide seat that provides superior living space, privacy door, direct aisle access and just like Unum One, offers a big bed, a spacious footwell and the largest side furniture of any forward-facing seat, all while matching the density of any alternative on the market today.

It also incorporates Unum's patented Scimitar seat mechanism, which is its 'comfort hero' that features in all Unum products. The unique kinematic of the seat offers infinite adjustability, lumbar support when you need it, a well-supported Zero Gravity position and an open and spacious footwell.

Chris Brady, Founder & CEO, Unum, says: "Unum Two is a great seat and together with Unum One means we have a seat to suit all tastes. Like its herringbone sister, it is an elegant design that delivers maximum comfort at minimum weight! I'm extremely proud of the team who have incorporated everything that was great about Unum One – from the focus on sustainability to the comfort of a well-supported Zero Gravity position – and successfully applied this to a forward-facing option. Unum Two builds on our ability to disrupt the status quo, while enabling airlines to deliver a consistent business class passenger experience."

Incorporating an alternating mix of sociable and more private seats across the widebody cabin, Unum Two fits the needs of every passenger group, from solo travellers to families.

The launch of Unum Two follows the closure of a recent investment round which is now supporting the significant development of Unum's team, product range and production capability.

Brady adds: "Launching Unum Two caps an exceptional few months for Unum, with new investors and some seriously talented senior colleagues coming on board. We have also completed our approvals and certification testing with the local regulator – we truly are ready to fly!"

Unum One had been in development for over two years before launching in 2022 and offers an outward-facing herringbone layout with full lie flat bed and direct aisle access.
Airlines and media can experience Unum Two at Aircraft Interiors Expo in Hamburg from 6-8 June 2-23 (stand 7A20).